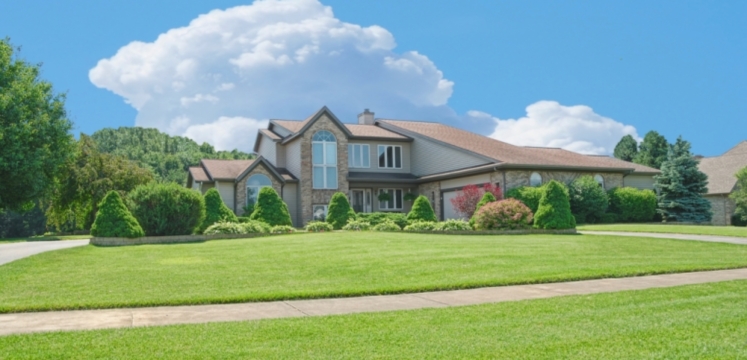 Lawn Care Landscape Maintenance
Lawn Care Landscape Maintenance services provided for customers in Biddeford, Saco, Scarborough, Kennebunk, Kennebunkport, Wells, Buxton and surrounding Southern Maine Communities.
Lawn Care Landscape Maintenance is our main focus at P.C.U. Enterprises Lawn and Grounds Maintenance. We offer a full range of services to suit your needs and desires. Our ultimate goal is to build you a lawn and landscape you can be proud of. We are also professionally equipped to maintain your lawn and landscape on a regular basis.
Call us today should you require expert Lawn Care Landscape Maintenance. We own and operate state of the art commercial grass cutting equipment. What about a Fall yard cleanup? Our customers often rave about this and other Lawn Care Landscape Maintenance services we provide. If you want to green up your grass and make it thrive, give us a call today!
We offer organic based fertilizer programs to enhance the health and beauty of your lawn. Your lawn showing signs of decline? We have 33 years of experience with lawn renovation and over-seeding! Your lawn choking from dense thatch? Our 34 Plus Years performing Lawn Care – Landscape Maintenance brings knowhow to the job. We are fully equipped to efficiently remove thatch. We offer comprehensive Lawn Care Landscape Maintenance to keep your grounds looking just so!
We can edge your garden beds, driveways, and walkways to perfection! Garden overrun with weeds? We will do a thorough job digging them out and cultivate your soil. What about a garden bed? We can design a beds for you and fill them with beautiful plantings.
Lawn Care Landscape Maintenance Doesn't End Here
What about the icing on the cake for your garden? Well, we are referring to bark mulch of course, and in every popular color too! We can either deliver it for you to apply yourself or do the entire job. Severe storm knocked a tree down onto your beautiful landscape?
We can cut it up and remove it for you. We can even grind down your tree stumps, apply loam, and seed it. Now for the Really Good Stuff, how about our "Original" Bushmaster Intuitive Pruning Method? Your shrubs have never had it so good! This specialty service will really set your landscape apart from your neighbors. We can also apply beneficial insects on your lawn and landscape. These little critters will work while you sleep to enhance your grounds. We can also deliver our rich compost fortified loam. Or what about our famous humus rich fertile compost?
Call Us Today At: (207) 499-2617 or (207) 205-7469
   Lawn Care Landscape Maintenance Services Defined
Grass cutting and trimming
Fall yard cleanup, (Also offer Spring cleanups )
Fertilizer programs, (Organic based)
Lawn Over-seeding
Lawn Renovation
Lawn detaching
Edging of garden beds, driveways and walkways
Weeding garden beds
Garden bed installations
Mulch garden beds
Downed tree removal
Stump grinding
BushMaster Intuitive Pruning Method (Our original unique method)
Beneficial Insects
Lawn Care Landscape Maintenance (Deliveries)
Loam, (Compost enriched)
Compost, (Rich, fertile, condensed, high humus)
Bark mulch, (All colors)

 
Lawn Care Landscape Maintenance (Experience Matters)
PCU Enterprises Lawn and Grounds Maintenance was established in 1984. That is 34 Years of working in the trenches! Our Lawn care – Landscape Services have been honed to an art.
Call us Today for Expertise in Lawn Care  Landscape Maintenance
(207) 499-2617 or (207) 205-7469