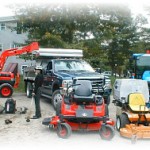 History – PCU Enterprises Lawn and Grounds Maintenance. 35 Years!
History – PCU Enterprises Lawn and Grounds Maintenance. Serving Arundel, Buxton, Biddeford, Saco, Kennebunk, Kennebunkport, and Wells, Maine since 1984!
Enlightening those who care is the purpose of this "History of PCU Enterprises Lawn and Grounds Maintenance" page. A vacuum isn't how PCU Enterprises originated. No; PCU Enterprises was built upon real struggles and victories along the way. And the originator of this business has no rich daddy who handed it down to him.
Established in 1984 – PCU Enterprises Lawn and Grounds Maintenance have gone through many changes. Moreover; Did you know that this 35-year-old business started as a handyman service? That's right, the name of this business was "Introducing The Handyman" – a name we kept for several years.
Certainly; many don't know the history of the business you see before you today! "I remember it vividly," says the owner. Richard had returned from three years of serving his country in the Army. Additionally; he eventually worked at what is now named Saco Island, in the Nike shoe factory.
Your invited to visit our home page. [CLICK HERE]
Why Did He Request To Be Laid Off?
One day his boss was handing out layoff slips, which got him to thinking. Moreover; after much thought, he asked the boss to lay him off.  Yes; you read it right – he did that! But hold on, he had decided to leap into the great unknown. Yup; Richard decided he was to start a handyman business! But here were is self-imposed terms – "Failure Was Not An Option!"
The wheel of history was in motion. So; Richard proceeded to look for a pickup truck. Fortunately; The vehicle appeared! A 1972 Chevy 4X4 short bed pickup with a snowplow. Unfortunately; Richard had little money since unemployment checks aren't supposed to make us wealthy.
Income from an old apartment house he purchased provided little cash flow. So; Richard decided that his mission required drastic action. Therefore; he offered the mechanic selling this truck the following; Approximately half the furniture in his house, a studio quality stereo system purchased overseas.
Additionally; He traded a Chevy Nova, a utility trailer among other items for this truck. In retrospect, he states he didn't get the better end of that deal. But; he had his sights set on the long-term plan.
Richard Hits The Pavement
Little did Richard know, but; history was in the making. So; he began advertising on a shoestring budget. And, before he knew it, Richard had more work than he could handle. Fortunately; one day a specific job request was made that changed the direction of his handyman business.
As fate would have it, Richard was asked to cut his first lawn. Sure; the history of PCU Enterprises Lawn and Grounds Maintenance has gone through many changes. Moreover; to say that the history of PCU Enterprises was a natural process to fulfill, would be misleading. Indeed; there were many twists and turns along the way. And some experiences were quite painful But; others provided the will to continue the path God set before him.
Would you like to patronize a small business with a rich history?
Call PCU Enterprises Lawn and Grounds Maintenance Today! 
Primary Number: (207) 499-2617
Secondary Number: (207) 205-7469
Would you like to visit our sister company? [CLICK HERE]
27 total views, 1 views today